"When in doubt, always pick one of the evergreen combinations."
We're a firm believer that not all can catch up with the frequently changing fashion trends. As a result, they start believing that they're not the fashion revolution, but the truth is – there are some menswear combinations which can be depended on, in every possible situation.
When you have so many trends coming and going in the fashion industry, it gets absolutely tricky and mind-boggling to understand which one would make you look dapper and raise the bar of your happiness. Hence, opting for the combinations which are evergreen and have always been there to give you push that you need to make a stunning entry wherever you go.
No matter what time of the year it is, what occasion you have or what kind of a personality you have, at least one of the following combinations will work for you.
1. White T-shirt and Blue jeans
Sounds familiar?? Sounds easy?? Familiar it is because it has been around for ages and you've seen your father and probably your grandfather also wearing the same. However, it might come across as an easy look to adopt, if you don't invest in the right ingredients, you'll make a disaster out of it.
You can choose a regular white t-shirt crafted out of cotton (or any cotton blends) neither too body-hugging nor too loose with a pair of straight cut denim jeans or slim fit (but not too slim) would be the ideal individuals to make your regular-look come across as fashionable.
2. Sweatshirt and Chinos
A sweatshirt is one versatile clothing article that has been popularized and worn in every possible tribe and time than you have ever imagined. Whereas, the chino trousers have been the not-to-formal-not-to-casual pair of trousers that make you look better.
Want to look better?? Blend the two article in a combination that suits your body type. These two pieces being opposite to each other (chinos being less formal whereas; sweatshirt is smart and relaxed) attract quite well and you are the one who gets the advantage of the same.
3. Casual Shirt and Tailored Trousers
It was long back when dressing sharp became the most opted and adopted menswear style. When it comes to dressing sharp, tailored pieces were the fashion statements. From there we picked the tailored pants/trousers but when the need of breathing free from the over-restrictive style became necessary, relaxed fit/casual shirts were combined with the tailored trousers for the chic and macho appeal. All you need to look forward to is pick solid easy colors that can go exceptionally well with the trousers. You can even subtle prints as well.
4. Navy Suit and White Shirt
Navy compliments every man. If you go by the classics that have been brought forward from the ancestors to the present time, a navy suit stands as a timeless, understated and infinitely style that makes sure you don't look overrated or not-so-cool.
On the other hand, the best way to compliment a navy suit is always to have a white dress shirt with it. The combination of contrast colors with the finesse of the tailored fit is what brings out the best in you. It has always been an essential in every man's wardrobe and will always be there for you to look stylish.
5. Harrington Jacket, Chinos, and Trainers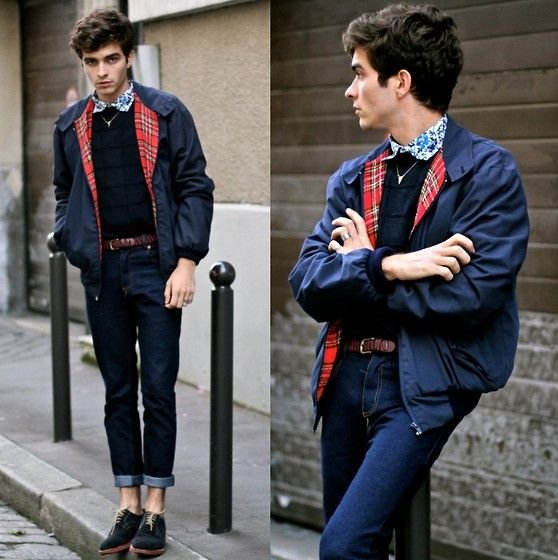 When you are looking forward to having the weekend-look, fashionable men don't have to try too hard. Trying too hard is not what they do and make sure that their look is relaxed as well as charming. Harrington jackets are the casual wear that looks absolutely stunning with solid pale colored chinos and white trainers is an off-duty look that was excelled by Steve McQueen. He then became the role model for many in the coming times to take forward the combination. This surely will make you look old-school for the good reasons.
Are you inspired by him yet?
6. Roll Necks and Double Breasted Blazer
Roll necks are probably the most popular winter wear that was back then worn with the purpose of protecting the neck from the cold waves. Eventually the same became the most prominent fashion statement and worn by the celebrities. Being the part of the sharp dressing category, if you add the double-breasted blazer to the same, the results will be beyond one's imagination. The sharp look with the formal dressing, you can achieve all the appreciation at your workplace for being so classy and stylish.
Do you have any other evergreen clothing combination that our readers should know and adopt?? Or, have any suggestions on the same?? Do let us know in the comments below.
Author Bio: I'm Alice Irvin, a writer cum an intrepid explorer in the field of men's fashion and lifestyle. With years of experience in this field, my aim is to reach out to every fashion fanatics around. Keeping the write-ups as simple as possible, I make sure that every individual can relate to it.
Save