In today's age the mini-machines have conquered technology. With the advent of mobiles, iPhones and other types of smartphones the world is beginning to shrink. We are already using machines like laptops, digital cameras and other ones to make our life more convenient. Now the newest addition to the queue is the portable projectors which are used to project important presentations, videos, movies and images onto any surface. Such projectors have invaded our daily lives, and we can now find projectors for iPhone being made as well. But buying an iPhone projector needs some considerations. Below are few points one should consider before buying an iPhone projector for himself/herself.
What is An iPhone Projector?
A Projector is a device which amplifies pictures, videos, presentation slides, or other necessary file formats from a small display (cell phone, laptop, PC monitor, etc.) to a large display maintaining sufficient quality. And an iPhone projector amplifies necessary files stored in iPhones and/or smartphones.
Top 5 iPhone Projectors Reviews
1. Brookstone HDMI Pocket iPhone Projectors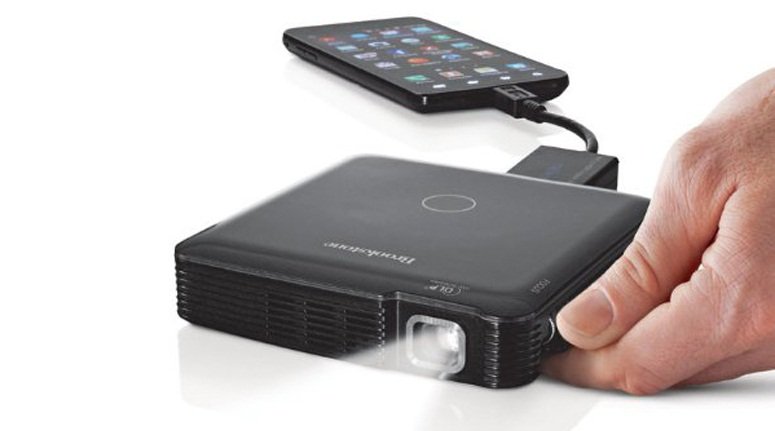 This is a HD projector which is very easy-to-use and due to its features it will comfortably make into our list of top 5 iPhone projector reviews. The Brookstone Pocket Projector is extremely powerful. It projects sharp images in low light environment, and you can extend it up to 80 inches diagonally on a projection screen or on a clean wall. This is a portable projector for iPhone which accommodates well with smartphones which have HDMI connectivity, and you can connect this with your iPhone via an AV adapter which you need to buy separately. 3800mAh battery can very well substitute that of any smartphone and gives it 2 hours of backup time. You can use AC power to operate it for continuous hours.
This smart iPhone projector provides you with 85 lumens via its projection LED (20,000 hrs lamp-life) lamp. The Brookstone HDMI Pocket projector for iPhone is very handy and lightweight and more importantly is a real heavy duty device. 854 X 480 pixel native resolution and two in-built speakers can convert your room into a home theater. There is an in-built focus wheel in this standard iPhone movie projector which automatically adjusts with the picture quality. There is a 3.5mm audio-out jack; with it you can also add your own external speakers for better quality. This classic iPhone 4 projector can be used as iPhone 5 projector (on iOS6 iPhone 5). You can play your favorite video games and have a silver-screen experience through this multifunctional Pocket Projector for iPhone. Finally, I can say the Brookstone HDMI Pocket iPhone Projector is more than a perfect projection device compared to its price.
2. 3M iPhone Projector Sleeve
Another contender for the best projector for iPhone tag is the sleeve sized 3M iPhone projector Sleeve which is specially designed for iPhone 4/4S and iPhone 5. This is an excellent projector offering you 35 ANSI Lumens. The image projection distance is 6 to 60 inches. You can do a lot of things with this including sharing photos, videos or even slideshows of various kinds. All you need to do is to snap the 3M Projector sleeve onto your iPhone and it is ready for service. This is truly a portable device from 3M and its sleek design makes it crowd favorite.
With this iPhone projector, you will just need to snap the projector on your iPhone. The next thing you know, you are watching videos and movies from the Internet through your iPhone on the ceiling of your living-room or in the side of a tent or even on the wall of the room. Worried about the portability? Don't be, the device is super slim. This portable iPhone projector fits into a pocket and can be used in family gatherings, camping trips or for casual movie watching with a portable projection screen. It can give you nonstop one and a half hours of projection and to make it more interesting, you will get an additional battery to extend the using time. It is the best iPhone Projector within the buying range of the people.
It can pull videos from Netflix, YouTube and other Internet video portals but the amazing thing about this 3M projector is that it has a dock for your iPhone, and you can charge it once you dock it in. No extra preparations, just dock your iPhone, press a simple button, and the device will begin charging your phone. While you are projecting the movie from the Internet, your phone is charging. Before you know it, your phone will be back on. The price for this amazing pico iPhone projector is very much affordable, and you can avail a great projector at a negligible price. You will be able to buy this iPhone Projector with just a little amount of money. The price for this amazing device is just $177.99.
3. 3M MP410 Mini Projector
3M is a well-known brand. The 3M MP410 Mini Projector qualifies to be in our list of top 5 iPhone projectors for the sheer effort. The makers have gone to the drawing board ever since their last two efforts ended in disasters, but this model is different. A lot of customers have been using this model happily. The 3M MP410 Mini Projector for iPhone is arguably the best one as it has been completely rebuilt with amazing features. The size of it is 4 x 4 x 1.7 inches, and it fits the hand nicely. With the weight of 13 ounces, it is very light on your hands. It has a native resolution of 1280 x 768 pixels. It offers 300 Lumens of brightness.
The package with the standard 3M MP410 Mini Projector includes a DC connector, HDMI port, VGA Cable connector, Security Cable option, Micro SD card input slot and USB slot. The micro SD card supports up to 32 GB of data. This high resolution projector utilizes DLP LED technology. Due to the security cable option, you can easily use the projector for business purposes as well as your standard day to day use. Perhaps the only downside of this whole package is the underpowered speakers. You may need to use external speakers to get the best output. Otherwise this package will be the perfect iPhone projector for you if you buy it. You can also transfer data using wirelessly from your iPhone. With this  MEETING FRIENDLY iPhone projector, you can connect 30 computers together. Hence, enjoy watching movies, video songs with your friends, relatives, and family.
4. AAXA KP600-01 P300 Projector for iPhone
This projector truly lives up to the expectations of the customers like the previous ones from AAXA. In my search for the best iPhone projector, I'd definitely keep it in front. The AAXA P300 projector is built with a compact DLP optical engine and is capable of giving 300 ANSI Lumens. This one claims to be the best battery powered pico projector of the world. It gives you 120 inches of image and the product life for the projector is 15,000 hours. It supports HD resolution of 1280X800 in terms of VGA. If you are using HDMI, then the resolution escalates to 1920X1080. The projector is 5.9″ in length, 3.9″ in terms of width, and is 1.6″ in height. So, if you want to find out what a true projector looks like, this is the ideal one. It even has a nice tripod along with it.
The features don't end here. In fact, you will have a USB port, MicroSD slot, a composite video input and a 3.5mm audio jack for external sources. The WXGA supported device has no cool down time. It turns off and on within a matter of seconds. You can run the AAXA P300 projector based on the lithium battery for 60+ minutes without relying on power. When you are mobile, you can truly go wireless and there are no needs for additional cables. Business and educational presentations are now made easy with bright images. There are multiple inputs using which you can project content from whichever media you choose. It is worthy of being the best iPhone Projector.
I consider this as the best iPhone projector because it works wonderfully well in the home environment. You can project videos, movies and games onto any surface of your choice. The AAXA P300 projector goes well with DVD Players, Bluray Players and gaming consoles as well. You can connect to PC and Mac via the USB port or MicroSD slot. The device supports a wide range of formats, and it is very easy to play media or presentation files from iPhones or iPads. All you need to do is to plug the devices in. The best thing about this device is its contrast ration, which is 2000:1.
5. Epson MegaPlex MG-850HD Movie Projector
I saved the best for the last. MegaPlex MG-850HD 3LCD Projector from Epson may be the last one for my "Best iPhone Projector" list, but it surely packs the punch to be the number one contender. It comes at the price of 892.97 USD only. For a power-packed mini projector, it's a price worth paying to the vendor. This iPhone projector gives you an incredible 2800 ANSI lumens of color light output. The Epson MegaPlex 850HD movie projector utilizes 3D and 3Chip technology which contributes to viewing images and videos in true-to-life colors. The projector is extremely lightweight. One can take it anywhere and the best thing is that this device has built-in doc for your iPhone, iPad or other Apple devices. That is not all, you can use this device to connect to PC, Mac, DVD Players, Blu-ray players, WiFi, Nintendo, Xbox or any other gaming device.
But this thing alone isn't what keeps it in my "Best iPhone Projector" list. This high resolution iPhone projector from Epson will give you HD Quality images in even the brightest of places. It is equipped with the 3LCD technology as a result you will get colors which are 3 times brighter than the conventional ones with the help of 3 individual chips working collectively, 20 years guaranteed product life, 25% less power consumption and more. Screen size compatibility for this projector is 33 – 120 inches. You will need 2 AA batteries to run this amazing device, and they are included with the package. But you will get better output with AC power. The only downfall of this projector may be its weight. It is 8.1 pounds.
The sound is incredible from this device. This amazing Epson MegaPlex MG-850HD projector for iPhone has two in-built speakers which have 10 Watts of power each. You can also play Karaoke with it as it has mic inputs inside the package along with a power cord, iPod docking bracket, remote control, 2 AA batteries, genuine Epson lamp, replacement air filter set and more. You can get up to 300 inches of image projection that is equivalent of 20 images of 60-inch height. Images can be projected upon any surfaces using this iPhone movie projector. You can project them onto your garage doors, bedroom children's room and anywhere you like. Although this iPhone projector is used primarily for watching movies, playing games or viewing images one can also utilize it in educational presentations or boardroom meetings. Truly worthy of being the best iPhone projector that is in the market these days.
Things to Consider Before Buying An iPhone Projector
Projectors can be of various sizes and capabilities. Some of them are big in sizes and capacities and some are rather small. An iPhone projector needs to attain "Pass Marks" on few categories before being considered for buying. People usually have different views and different preferences when they look into these parameters. I'd just shed light on few of those parameters.
The Size is An Important Factor
For an iPhone 6 plus projector, the size is important. The iPhone itself is a sleek and portable device. So, the projector that will or should be used with it should be very small as well. It is not a good idea to carry a large projector with a small iPhone. A pocket size, easy-to-carry projector would fit well with the iPhones or iPads. One thing to add is the weight. An iPhone projector needs to be lightweight but durable. Having less weight makes it easy-to-carry and move from one place to another. There are many types of iPhone projectors according to sizes: pocket projector, portable projector, pico projector, slim projector, mobile projector, etc.
Lumen is Another Thing to Consider
For an iPhone 6 plus projector, it is absolutely vital that it has higher lumen count. The more the Lumen intensity, the brighter the picture output will be.
Image Quality is A Big Factor
Makers of the mini projectors of iPhone are often conscious about the image outputs. The projector should be able to reproduce top quality images. There are three imaging technologies that are currently fighting for the best position they are the DLP (Digital Light Processing), Laser-Beam-Steering Projection and LCoS (Liquid Crystal on Silicon). The LCoS is the best technology available which came about in 1970.
Well-known Brands Represent Quality
There are various brands of iPhone projectors in the market. Brookstone, Aiptek, AAXA, Innoio, Kidigi, Microvision, Samsung, 3M, Optoma, Vivitek, etc. are just to name the few. Every brand has its own specialty and signature way of producing a mini projector. One should choose an appropriate brand for him/her depending on his/her needs.
Connectivity is A Major Factor
Connectivity is the key when one is out to buy an iPhone projector. There are projectors which connect well with USB, HDMI, A/V and other outputs. Whether the mini-projector you are buying connects well with your iPhone, Smartphone, or iPod well enough or does not need to be measured. Plus, other inclusions are often provided with a mini-Projector as well. Make sure you have a check on that as well.
Native Resolution/Contrast Ratio is Something to Pay Attention To
The default contrast ratio or Native Resolution plays a great hand in deciding the quality of an iPhone Projector. The projector's specifications and the technology that is used to build it will tell you more about this feature. The higher the resolution or contrast ratio, the better the projector is in projecting videos or movies.
Price is A Major Concern
This is the most important aspect one needs to look into before buying a product. There are few really expensive iPhone projectors around in the market. Brookstone, Aiptek, Samsung, Optoma, Vivitek, AAXA are few of the costly brands available for purchase compared to the other ones. The amenities that these projectors provide are worth the price. However, one needs to carefully balance out the quality with the price to make sure they are buying the best one according to their capabilities.
An iPhone Projector uses the advanced technology which allows you to enjoy movies and videos of you with your friends and family creating a multiplex like atmosphere anywhere you like. You can prepare for your important presentations without worrying about the power backup of your office. There are multiple brands available from where you can choose your favorite one which meets your needs.
As we know, iPhone projector manufacturing companies are making new projector models regularly, so we will be updating the list to showcase the best iPhone projectors available in the market to keep you updated. Stay tuned!
Be Sociable, Share!