The fact that winter is coming doesn't mean you'll be giving up on your workout routine, right? Right. For the alpha gender, the only thing that might change is that they'll be growing their beards thicker and longer, but what about the ladies? The ladies will keep on hustling at the gym or the outside – whichever one's preferred.
Now when that's settled, let's figure out the perfect winter fitness apparel to rely on for a comfy workout that won't leave you sneezing and shivering.
Here, a list of the basics –
#1. Gloves/Hand Warmers
In winter, when the winds are harsh, the skin is prone to breaking and irritation, therefore it is very important to protect every exposed part of it, like hands, face, neck, etc. The key to keeping your hands protected and warm is to wear gloves or mittens, whichever of the two is your thing. Choose gloves that are breathable, warm and not too bulky so they won't disturb your workout. Keep things fun by choosing hand warmers in light colors – the fact it's winter doesn't mean you should give up on your love for light palette.
#2. Hat
The part of our body that is probably the most sensitive to low temperatures is out head, so make sure you keep yours warm at all times. Spice up your winter workout gear with a few fashionable beanies and make sure they are wicking to reduce the sweating underneath. Choosing to save up on your winter fitness apparel is not the smart choice – you want to go for high quality fabrics that let your skin breathe and feel good while you are active.
#3. Ear Warmers
Ear warmers are a sweet way to protect your ears and keep your hairdo intact. They're perfect for when the weather isn't that cold that you need a hat. Ear warmers protect the back of the neck and ears from the cold and they look pretty darn cute, especially in some vivid hues.
#4. Moisture-Wicking Tops
Moisture-wicking materials are ideal for a short-sleeved top or tank under a lightweight sweatshirt or zip-up hoodie. You can also opt for a long-sleeve moisture-wicking fitness apparel for extra protection and comfort. Winter is all about layering, so – the more the better. Opt for clothes made of breathable, moisture-wicking materials and stay comfortable throughout your entire workout session. You'll be comfy and still won't have a problem with moving around.
#5. Vaseline/Chopstick
Going out for a run in the cold will damage the skin on your face severely unless you make sure that the skin is protected. Make it a priority to put Vaseline/lip balm/chopstick on the lips each time you are going out for a run, and have balm in your pocket for when you need to reapply.
Vaseline is pretty consistent and thick in structure so it stays put despite heavy breathing, nose wiping, and drinking water from the bottle. And it's pretty cheap, too.
#6. Wind-Resistant Jacket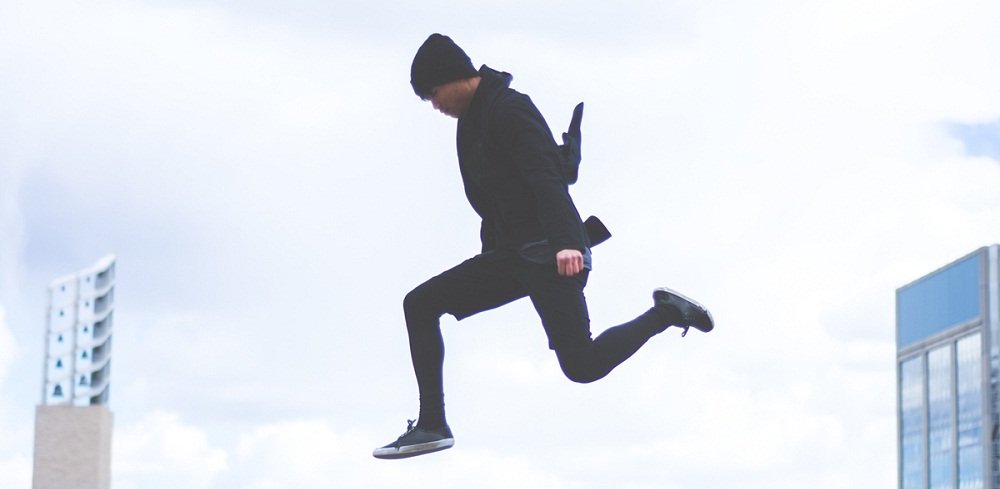 When going out for a run or just leaving the gym, wearing a weather-appropriate jacket is essential. Zip yourself up so you can keep the cold and rain far from your skin, and make sure your clothing is not getting soggy or damp.
#7. Leg Warmers
Ankle area is pretty fragile as it is, and during winter time it needs additional warmth and protection to avoid sprains. Don't forget to wear your leg warmers when going out for a run or any other outdoor workout – you need your ankles warm and protected.
#8. Weather-Resistant Footwear
Invest in lightweight, weather-appropriate workout shoes with good traction. Otherwise, you may end up slipping and sliding yourself to the ER!
#
9. A hood
Variant to a hat, hoodies are a perfect protection for the head for both men and women; depending on the climate of your country and town, head protection will obviously vary. We suggest opting for a hoodie during mildly cold Fall days/nights as they are easy to put on and take off; if it's too cold – a warm beanie is your A game, obviously.
The key to working out in winter time is to be worm but not hot. Sweating too much under way too many layers of clothes may leave you wet which will make you a good candidate
Save