I love, love, love mixed prints! It's a great way to change up your wardrobe and you can mix wild or mild prints, depending on your own personality. When it comes to risky trends, the art of mixing prints can be intimidating.
The good news is once you have mastered the art of putting prints together your options for potential outfits in your closet will increase tremendously. It may take some time getting use to the idea of pairing items you wouldn't normally put together but if you are up for the challenge, here are a few tips to get you started…
1. Start With a Favorite
If you are just learning to mix prints then start with a favorite piece first. Whether it be a floral skirt or a leopard printed blazer, use this piece as your jumping off point. If you don't normally wear bold prints get comfortable wearing them first.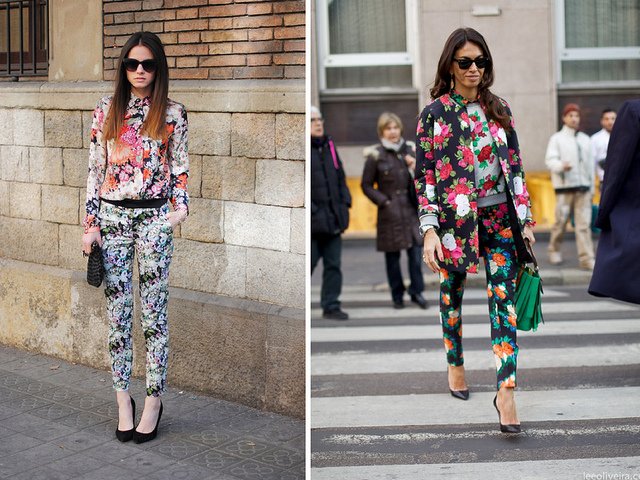 2. Stick With Classic Colors
For those of you who are still a bit weary about mixing patterns. Stick with black and white for a classic chic look. Break up the look with adding a pop of color. It can be a handbag or some killer pair of heels. Make it fun!
See Also: How To Wear & Look Good in Summer Shorts?
Tip: If you are too nervous to mix prints, try a more subtle approach by using textured pieces. Example: a ruffled blouse with a lace skirt.
3. Choose a Color Family
Similar color palettes will help blend your prints, while still making a statement. Make sure your pieces share a similar background, like brown, black, white, or grey.
4. Size is Important
Once you have your larger, bold print, be sure to pair it with a smaller, less dominate print. Two prints of equal size will be too overwhelming and can be unpleasing to the eye.
5. Less is More
Limit your mixing to two patterns. You don't want to go overboard. If your look calls for a third piece, go with a white blouse or a simple cardigan to tone it down and break up the prints.
Must Read: Women's Latest Summer Fashion Trends: What's New in Summer 2016
6. Smartly Accessorize
The right accessories can be the key to your entire outfit. Using solid colored items will help break up the outfit and give it more dimension. Try pairing it with a cute clutch or a belt. Remember less is more and that helps when choosing accessorizes for bolder looks.
Tip: You can even trade off and you use your accessories to do the mixing instead of the usual staple pieces in an outfit. Example shown below: A scarf and shoes are a great way to mix patterns!
What do you think of mixing prints together? Clash or Class? Leave your questions, comments, and/or thoughts below!