The famous British television show Love Island is grabbing the whole of the UK's attention with its string of love, drama, tears and tantrums. We're nearly at the end, but have you noticed the stylish sunglasses those love islanders have been wearing? While some of the contestants were constantly on job, some wouldn't even leave their sunglasses aside for a night's sleep. Afterall, they also know how important it is to protect their eyes from sunlight, even inside the villa!
Who is playing a game and who is there to find a real connection? We don't know, but we can sure find you some similar sunglasses to the ones worn by the islanders! From Tom's oversized shade style to Claudia's hexagonal Ray-Ban sunnies, we'll walk you through all the sunglasses that caught our eye!
Ray-Ban gradient aviators – Ron rocked 'em
Ron seems like a Ray-Ban guy, making his way through the game in his Ray-Ban RB3561 The General Gold Crystal Blue 001/3F57 aviator sunglasses. These aviators with their blue gradient lenses and golden frame are as charming and flirtatious as Ron's personality. With a slow and rocky start with Lana, who knows, these aviators might help Ron to find a real relationship with Lana (only if he stops making his way through the villa).
Turn heads for sure with these fabulous sunglasses!
Versace and Prada  – Tanya's and Shaq's go-to
We're glad Tanya and Shaq are back again! Despite going through issues and a tricky love triangle, they have been able to put their love first. You can see them carrying excellent styles with their fabulous sunglasses on.
Tanya loves to go bold with her Versace VE4361 GB1/87 Black sunglasses – rectangular hexagonal unique shape with thick temple featuring the iconic Medusa emblem in gold!
Shaq looks sharp in Prada PR17WS 1AB5S0 Black sunnies. The thick rectangular frame with its geometric arms goes with his outspoken personality.
Both the sunglasses are fabulous and are an exquisite way to mark your fashion statement as bold and unforgettable.
Tom's caramel fashion sunnies
Tom keeps us all entertained, doesn't he? He is always causing drama in the villa, chit-chatting and flirting with girls most of the time. He can be seen chilling in a sunglasses model similar to Radley RDS Aveline 118 Gloss Amber/Caramel/Coral. The caramel-coloured sunglasses sure do look fantastic against Tom's flirtatious personality. These sunnies are a good tool to enhance your look and grab attention, after all, it seems to be working for Tom
Claudia Ray-Ban-ing with hexagon sunglasses
Claudia served an emotional exit with her final words being a brutal jibe towards Casey. She sure is not a part of this show anymore, but she did leave a remarkable mark with her amiable nature and her fair play throughout the show.
We're in absolute love with her RB3548N Hexagonal Gold 001/58 Polarised sunglasses. These hexagonal sunglasses are fully rimmed with gold frame and features polarised lenses. Anyone can look fabulous in these frames, especially those with oval and round face shapes.
You can get these unisex sunglasses and pair them with whatever you want. As classic as Ray-Ran is, you can never go wrong with this iconic brand.
Kai playing it cool in square shades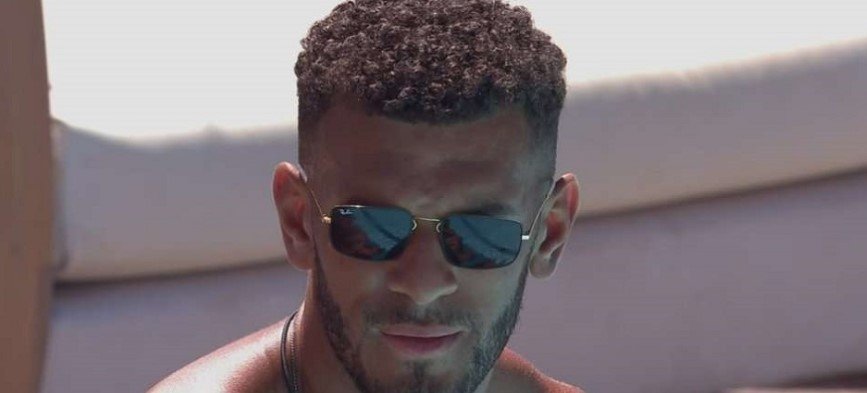 As drama-free as he is, we're loving his islander game so far. Do you think he is 'deeping it' with Sanam? Kai is taking his romance with Sanam slow in his oversized square sunglasses, much like FGC Sam C02 Grey Polarised sunnies. Kai and Sanam do make an 'eye-conic' couple, don't they?
With grey gradient lenses and oversized square metal frame, you can look ravishing just like Kai! If you like constructed geometrical shape for your sunglasses, such as square and rectangle, these sunnies can be a good choice for you.
Jessie playing well with the wrap-arounds
One of the bombshells to join the Love Island winter series was Jessie Wynter. Despite Will being led astray in Casa Amor, Jessie was nice enough to remain coupled up with him. You can see Jessie slaying in her sporty wrap-around shades, similar to O'Neill Barrel 108P Matte Grey Polarised sunglasses. These sunglasses feature a wrap style for a comfortable and secure fit. The grey tinted lenses are polarised and because of its secure fit, they are an absolute favourite for playing sports! We don't know if Will will stand by her until the end of the show, but these sunglasses definitely will!
Those were the sunglasses that grabbed our attention. If you're in the Love Island sunglasses vibe right now and want to buy yourself a pair of designer sunglasses for less, you can check out Feel Good Contacts. They stock great designer brands, such as Versace, Prada, Ray-Ban and O'Neill to name a few. Plus, you can enjoy up to 60% off with them.