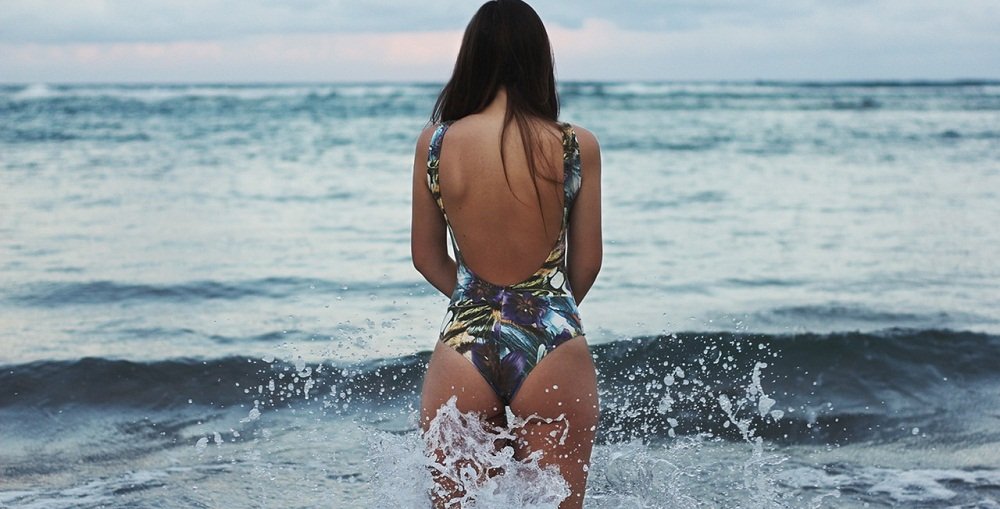 Summer is finally here, which means that the season of tanning and sipping cocktails at the beach has just begun. However, many of us would agree that bikini is just the perfect thing when it comes to getting a perfect tan, right? Well, it doesn't have to be so, at all!
A one-piece swimsuit can also look smokin' hot – and very classy at the same time – so we can't see the reason for not choosing it this summer. Women from all over the globe simply adore it, and here is why.
When Did It Become So Popular?
The modern one-piece swimsuit first appeared in the mid-1900s, but it reached the peak of its popularity during the 20s and 30s. Even though it was designed to cover the torso of the wearer, some of the first models actually covered arms, legs, and the neck, too!
It seems so crazy nowadays, but the fact is that Annette Kellerman, an Australian swimmer, was arrested for indecent exposure since she wore a form-fitting one-piece tank suit that showed her arms and legs. That caused a public outrage which lead to the acceptance of the style, which then made those swimsuits known as "the Annette Kellerman."
See Also: Bagging an Underwear Bargain – Save Huge & Look Sexy
However, during the 20s and 30s this piece shifted from being merely functional, to gaining more decorative properties. Sleeves disappeared and its sides were cut away and tightened, whereas previously used fabrics (such as rayon, silk, and jersey) were replaced by latex and nylon. The 30s one-piece was definitely more attractive and appealing, and it even had shoulder straps that women could lower for tanning.
Who Wore It First?
Apart from Annette Kellerman, who significantly contributed to its worldwide acceptance, a one-piece swimsuit was worn by Esther Williams, an American swimmer and actress. This woman also portrayed Kellerman in the 1952 film Million Dollar Mermaid (which was titled as the One Piece bathing Suit in the UK). Apart from them, some old-school style icons loved this iconic piece, too.
Elizabeth Taylor, Grace Kelly, Audrey Hepburn, and many others showed that this piece is timeless for a good reason. These ladies surely knew that showing too much skin doesn't have to be directly connected with looking sexy and attractive.
One-Piece Swimsuit Today
This model is definitely one of the most versatile swimwear pieces, and there are so many variations which flatter every body shape. One of the greatest things about it is the fact that it easily covers some minor flaws and problematic spots ladies don't want to be seen at the beach.
Even though many people think that women look too covered up in a trendy one-piece swimwear, the truth is that they can look much more attractive than in a bikini. It gives you a certain amount of freedom, since it allows you to move with ease and indulge in numerous summer-related activities. Apart from that, this kind of swimwear will surely boost your self-confidence, since it won't show too much skin.
What is even greater about it is the fact that you won't need a cover-up while wearing it, which may even help you save some money! All you need is a denim shorts you'll slip into before you head straight to a beach bar.
Everybody Loves The One-Piece
No, wearing the one-piece doesn't have to mean that you are a professional swimmer, or that you hate sun, or that you simply need to wear it because you are body-conscious. It goes far beyond that – some of the world's most prominent designers realized the importance of this piece and incorporated them into their latest collection, which makes these a legitimate part of the fashion industry.
Stella McCartney, Tory Burch, Alexander Wang, Mara Hoffman, Kenzo, Proenza Schouler… All of them really took this trendy piece to a whole new level, which made it even more popular. Fashionistas all over the globe simply adore it, which shouldn't be surprising at all – this piece is smokin' hot! Even celebrities adore it – Ciara, Selena Gomez, Emily Ratajkowski, Amy Schumer, and, of course, girls from Kardashian-Jenner clan were spotted this summer wearing their favorite one-pieces. This just shows its dominance in the fashion industry, and all we can say is that this trend is definitely here to stay!
The worldwide popularity of this piece is certainly not accidental – women (back in the past) fought fiercely in order for it to become a legitimate part of womenswear, and they did a really good job! The one-piece is definitely one of the hottest items this summer, so make sure not to miss it. Get one just for yourself and stand side by side with celebrities who absolutely adore this trend – you can't go wrong with it!
[author] [author_image timthumb='off']https://www.trendsbuzzer.com/wp-content/uploads/2016/07/Peter.jpg[/author_image] [author_info]Peter is a beauty and fashion editor for HighStyleLife magazine located in Brisbane, Australia. After graduating from Australian Institute of Creative Design, he worked as a fashion stylist for few fashion events in Brisbane. Beside fashion, he loves reading, making DIY cosmetics and traveling around tropical destinations. He plans to create a business for beauty and style advising.[/author_info] [/author]