We say that every individual is a pro in his own special way, and of course in the field that individual works. You might have planned for years for your wedding day, themes, the dress, jewelry, dance, and everything. But there are things you might overlook – no matter how specific the preparation is!
Let's celebrate is active in numerous wedding theme décor and custom decor and they say that, every bride is generally has a theme and idea of her event decoration and specifically flower choice and decorations. But they make mistakes here! The event is planned well by event managers and when it comes to the flower, here's what wrong they do:
#1. Out of Season Flowers  
The first and foremost mistake is the choice of out of season flowers. Be open to your florist about your budget and let them suggest you professionally with alternatives to your choice of out of season flowers, because something that's fresh and available can help you save and can even look better.
#2. Waiting long for the Florist Booking  
Especially during the wedding seasons, the florists are not easily available, so waiting until the last minute may cause you to go through a lot of search. Plus, booking a florist in the start can help you with other design vendors and aspects such as ceremony décor, cake etc.
#3. Using Pinterest  
Sometimes you end doing what others do and this also involves a mistake of relying on the pinterest. You should be able to decide things on your own, especially for your wedding décor you need to let your personality shine through the entire decoration.
#4. Allocating a Specific Budget for Flowers  
Not knowing the price the flowers is okay, but if you like flowers and the decoration in coordination with them, then it's important for you to leave a percentage of a budget allocated to flowers. Talk to your wedding and flower decoration planner and let them help you scale back in areas of less interest.
#5. Take something Along for Consults  
You should always have at least a picture that can tell your florist about your vision. Having a vision for yourself straightens up the path for your florist and lets him plan clearly for the choice of flower color and decoration to plan.
#6. Ask for a Mock Up  
Just how you try on your wedding gown for perfecting the look and fitting, you should also not wait until for the reception to see the arrangements. Have a mock of the decoration done, so you can sleep easily.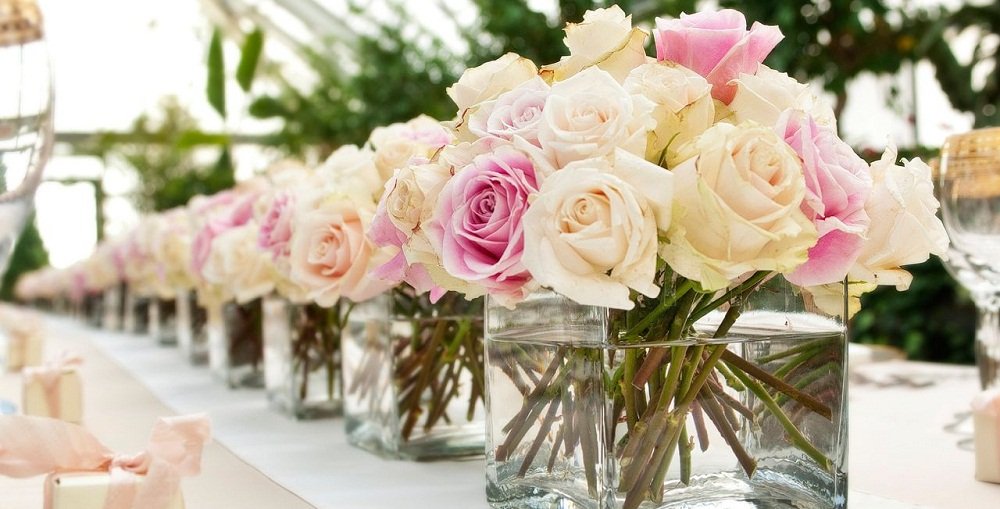 #7. Don't Pick Unrealistic Colors  
Having your heart set on blue orchids or purple ones can be an issue, because getting the flowers to appear in the color you want, the flowers have to go through the dye injecting process in advance. The extra special colors require extra special sprays and dyes, which can be extra on cost and budget. So set realistic goals and discuss things out with your florist before such dreams!
#8. Choose Quality Over Quantity  
Brides normally want more in the flower department, which leads to purchasing of fillers for pumping up the baby flowers and converting it to bouquets or centerpieces. But it's better for you to opt for dramatic flowers, it will add to a beautiful impact!
#9. Missing the Extra Flowers  
The best man is missing on a boutonniere, the centerpiece is not on the table, and the entire aisle at the entrance is bare. Make a list with your florist in advance and have all floral bases covered.
#10. Ask the Right Questions  
Look wisely when choosing your wedding decorators in Atlanta. Ask all the questions you want, be sure to read the reviews and check portfolios. After all, it's an important element of your day. Anyone who is thoroughly prepared and is ready to go an extra mile for you will make your wedding day beautiful!
#11. Going Too Big  
Brides should avoid concentrating on how big and beautiful the flowers look, while paying no attention to how they will be arranged. When choosing flowers, it's important to consider them being the centerpiece of tables and not going overboard, guests sitting across need a clear view and should not feel crowded.
#12. Reuse the Flowers if you can  
Ceremony flowers should be reused. Most of the brides might not know this, but these flowers can be reused and this can save on the overall budget.
#13. Skip on the Props  
Flowers and specially arranged flowers are more than just a colorful accessory for a wedding. Flowers are capable of telling people about your story; they can enhance the look of your entire event, and become the soothing appeal to naked eye. If you have managed to choose the right wedding planner and decorators, then you can easily skip on the props. Flowers will do the job perfectly – and remember to not let a friend do this job, who does it for the sake of a hobby!