Life is full of wonders and when you delve deep into your soul you known that there are so many things that you need to do before you die. Nature offers us enough wonders and amazement that we can only experience and enjoy in our lifetime.
So, if you are an explorer get set for the top 10 breathtaking places to see before you die. Here they are:
1. Santorini, Greece  
One of the most breathtakingly beautiful islands that you can ever visit is Santorini. Located on the Mediterranean in Greece this island curves along a giant blue lagoon in the Cyclades Islands. It has some of the stunning views from the high towns.
See Also: The Best Beaches in Australia That You Must Visit
2. The Fairy Pools on the Isle of Skye, Scotland  
Everywhere is Scotland has been strewn with natural treasure of beauty. In the midst of that lies the Fairy Pools that is just too beautiful to believe. These pools are vividly coloured with water coming from the falls of the Cuillin Mountains.
3. Hitachi Seaside Park – Japan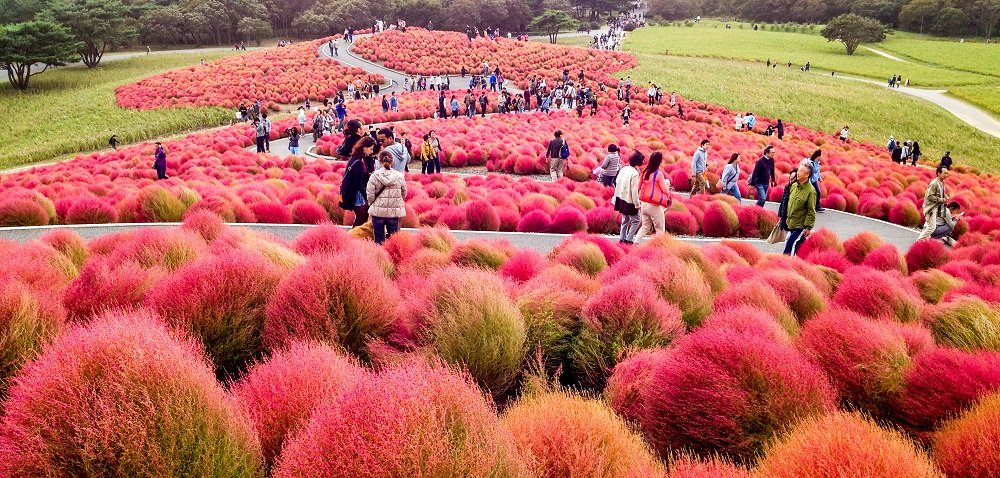 This is one of the most ecstatic places in Japan. The riot of colours everywhere in the garden will take you to a dream land. This is a garden of seasonal flowers that changes colours with each passing season.
You May Like: Awesome Places You Should Visit While in Vibrant Jaipur
4. Machu Picchu, Peru  
One of the ancient civilisations of the world lies intact and tucked away on the hills of Peru. It is now a world heritage site that was once the famous Inca civilisation.
5. Glacier National Park, Montana  
This is one of the nature's best place where you can indulge in the alpine meadows, pristine forests, spectacular lakes and lofty, mountains. The places looks just like a cut out from paradise and it is one of the best National Parks of North America.
Related: Top 12 Attractions, Activities, & Things To Do in Los Angeles
6. Angkor Thom, Cambodia  
Angkor Thom is unarguably one of the most creations of creative genius from the ancient times. This ancient city still stands defying time and age and it has mesmerized us in this age with its architectural splendour.
7. Capilano Suspension Bridge, Vancouver, British Columbia  
If you love adventure then this is the place you should visit once. The Capilano suspension Bridge in Vancouver is an engineering brilliance that is 140 meters long. It hangs 70 meters above the Capilano River. The entire river can be crossed using this simple bridge.
8. The Gardens at Marqueyssac, France  
Château de Marqueyssac as it is called in French is a garden that was created between 1830 and 1840. The Garden is one of the most beautiful in the world and still holds that charisma from the 1830.
Must Read: 14 Tips for Solo Female Travelers
9. The Great Wall, China  
A man made wonder and one of the Seven Wonders of the World, the Great Wall of China is something that should not be missed. The entire wall is 21,196 kilometres long.
10. Marble Caverns of Carrera Lake, Chile  
This is one of the most amazing places you can even be. located on a peninsula of Patagonian Andes this is a remote glacial lake that has been formed by 6000 years of waves washing in calcium carbonate making a swirling blue cavern that looks almost surreal.
These are my favorite list of top  10 amazing places to visit before you die. While there are so many beautiful and amazing places in the world that you are visit before you die, the above mentioned 10 places remain the top favourite of all times. Visit them and achieve an experience of a life-time.
Save