I'm running out of time! I'm sure we all have said this some time or the other. The generation of today I must say is quite a busy lot. Workload, assignments, home etc, all these chores leave you with hardly any time to groom yourself and particularly your hair. Well, no worries at all because you have a reason to smile as this article tells you about the best 5-minute hairstyles.
Gone are the days where you had to reserve ample time and be patient to do your hair. Speed up your routine in the mornings and get going with some stunning hairstyles.
Five-minute hairdos can also be called 'Lazy girl hairstyles'! It's hard enough picking out an outfit every morning, choosing how to do your hair can be a real pain. Well, not anymore. These are the best hairdos to go through when you are rushing out the door.
1. Stylized Your Pony
Yes, a ponytail is hardly something novel when it comes to hairstyles, but the stylized version will have you going from simple to sleek in under 5 minutes. All you need is to layer on a spot of anti-frizz serum after your hair wash. Quickly dry your hair on warm with a paddle brush to make it straight and neat. Make a prominent and straight side or middle parting and gather all your hair (all of it!) at the nape of your neck securely with a tie so that no hair goes out of place. Shift your ponytailed hair to the front of one shoulder for a softer look.
2. Go Inside-out
This one definitely looks more complicated than it is and will take you all of two minutes before you're out the door in the morning. Scoop up your hair into a low ponytail and loosen it slightly. Part the section of hair that is above your tie and loop the portion below the tie through this parting. Push up your hair tie to the desired position. Wear trendy earrings for an elegant and intricate looking hairdo.
3. Braided Headband
Putting together the casual braided headband look is as easy as making instant coffee. It is the perfect hairstyle for when you're in a hurry. To put together this look all you need to do is braid a portion of hair from the front section and wrap it around your hairline. This look creates a stylish headband that will surely make people believe you are having a good hair day.
4. The Messy Bun
The Messy Bun hairstyle is a go-to for when you are having a bad hair day or you are in a hurry. Easy to tie, this look does not require a lot of effort. The best part, the hairstyle makes messy hair look polished. Just scoop up your tresses and twist into a loose bun. Secure with a hair tie or bobby pins. Make sure you leave a few elegant strands loose to frame your face. This style works with both high and low versions. Place your bun up high for a chic day look or wear it low like Meghan Markle for a more classy style that suits evening outings.
5. Romantic Side Braid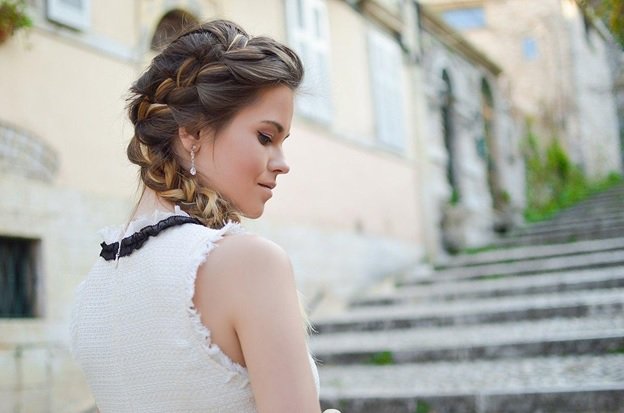 This is a gorgeous take on the conventional and homely regular braid. The side braid is worn mostly as a loose style and is extremely versatile in that you can spruce it up with a messy french plait or add some zing with a braided headband that cascades into a side braid. It's also a great hairstyle for when you don't have the time to wash your hair. Just run some mousse through your tresses and gently lift the roots for volume. Now unevenly part your hair lightly and gather it behind one ear and start braiding.
Quick morning requires hairstyles that do not consume time. A few simple techniques can make you look and feel out of this world! The best part about quick hairstyles is that they allow you to spend those precious saved moments on something more relaxing like a cup of coffee early in the morning.
Author Bio: I'm Surbhi, a writer based in Hyderabad, India, with interests and writing experience spanning across industries. Over the past decade, I have written for established publications on a variety of subjects like fashion, health, digital marketing, business etc. Diversity across various categories helps broadens my vision and make me learn more about my writing.