Do you just simply love using Instagram? Well, who doesn't like that fantastic photo-sharing app which is extremely fun and simple! Moreover, the rate of usage of Instagram by the social media geeks from around the world is increasing enormously with each passing day! And, interestingly, there are more than 500 million Instagrammers throughout the globe!!
This is not the end! The statistics that are mentioned underneath unquestionably manifests the growing buzz of Instagram. Just have a look! But, in spite of holding an account in such a popular social media platform for years, do you feel that you are lacking the number of followers?
Well, to become popular on Instagram or any social site is absolutely not about taking some extraordinary strides! You just have to act smart and understand some crucial pinpoints. That's it!
However, I was engaged with online marketing for long years. And trust me, I have noticed quite a lot of social media accounts turn out to be a hero from zero with the blink of an eye.
Moreover, in the end of the chapter, how much time it takes doesn't matter at all!!If you desire to get it enough, you can certainly accomplish your objective successfully. The world is definitely your oyster!
Well, in this article, I would specifically consider about how can you enhance the number of followers on Instagram!
With regards to the same, I am here with a rundown of # actionable tips for you to supercharge your follower growth on Instagram.
Just take a glance over!
1. Do a thorough research and upload quality hashtags
Obviously, hashtags hold a huge significance when it's about blogs and articles!! But, do you know nowhere on social media are they important as compared to Instagram? If you incorporate the right hashtags with your pictures then there is a huge chance that it will let your images to get a better exposure to the target audience.
Simply, hashtags can be certainly your best bet for extending the list of your followers on Instagram! Instagram allows its users to use 30 hashtags per post.
Moreover, according to TrackMaven study, the highest numbers of interactions are seen on such posts in Instagram which have 11+ hashtags. Just get a clear idea with the following graph which represents the concerned outcome of that study.
Source: Trackmaven.com
Which kind of hashtags would be the best?
Well, it can really a tough task to ascertain which hashtags would be perfect for adding to your Instagram posts? And, I would love to share with you some fruitful tips regarding the same.
You just need to look for hashtags on similar posts to yours. Here's how you can do it!
Add a couple of similar and obvious hashtags to your photos before posting it.
Then, you can browse through to search those hashtags. And, while scrolling through other similar pictures that share your hashtags, you can find what kind of other tags such users have added that you might add, too.
Then, you can go back to your post and edit the photos with all the relevant interesting hashtags that you have found.
Further, the other superb way to find the perfect tag for your post can be to click through the top 100 hashtags from Websta.
The Key Takeaway: Make your photos enticing with creative and catchy hashtags.
2. Post at least one per day
If you want to become famous on Instagram then you have to post meaningful and interesting updates very frequently! Quintly, a popular social media analytic tool, analyzed 5,000 profilesand came up with the result that average Instagram accounts at least posts once in a day.
And, more intriguingly, the accounts with the highest number of followers averagely post a bit more than that which is up to two to three pictures per day.
Moreover,Instagram is all-new now with a Facebook like algorithm. The algorithm considers consistency as the key factor to make your posts visible and let the same appear at the top of the timeline.
The Key Takeaway: Post more often on Instagram.
3. Ask fellow users to 'tag a friend'
If you are organizing a bash or doing a noble work like marketing for a non-profit event then asking the users to tag a friend of theirs can be a great idea. It will certainly let you expose your event to a huge number of people who wouldn't have otherwise heard about the same.
And, thus you will enhance the number of followers like never before! You can take a glimpse of the following image and thus you will get an idea about how exactly should you go for this tactic?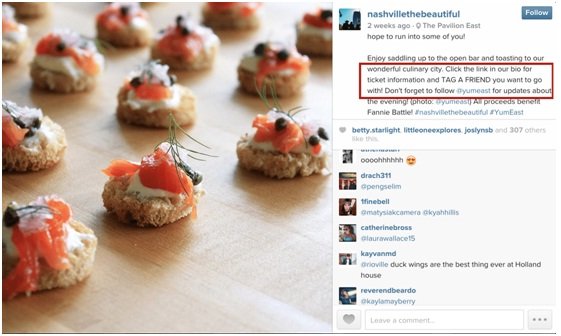 Source: izea.com
The Key Takeaway: Invite others to 'TAG A FRIEND'
4. Choose the right photo filters
Instagram offers you some of the most vibrant filters and that is certainly not just for the fun! If you chose the right one then it will certainly let you get more followers and thus it will further increase your engagement.
The potential researchers from Georgia Tech and Yahoo Labs analyzed millions of pictures and finally came up with a result that filtered photos are 21% more likely to be viewed and 45% more likely to be commented on than the ones which are not filtered.
And, now the question arises which types of filters actually do wonders? Well, the researchers found the following three types extremely effective:
Warm temperatures.
High exposure
Higher contrast.
So, make sure that you have an overall hands-on experience of using these potential filters if you have an intense urge to get a high number of followers on Instagram.
Moreover, the following infographic from Curalate having even more specific pointers, would help you understand how to optimize the look of your photos to get a great engagement on Instagram.
Have a glimpse!!
The Key Takeaway: Furnish your photos with the right filters
5. Go for a fantastic cross-promotion
If you want to let more and more people know that you are on Instagram then you can act a bit smart and do a great cross-promotion. It's because Instagram makes the whole episode of sharing your photos to other social media platforms like Facebook, Flickr, Twitter etc. an easy one.
So, it would be a great tactic to get attain a great amount of extra exposure. Also, you can always try incorporating some Instagram pictures in your blog posts. You can even embed an Instagram feed to your Facebook page for some additional exposure.
Moreover, a study was conducted by Buzzsumo in which 1 billion Facebook posts from 3 million brand pages were analyzed. And, it was noticed that the images posted to Facebook through Instagram received a huge engagement when compared to the ones that are published natively.
Even, the following graph depicts that images posted through Instagram on Facebook get 23% more engagement!!
The Key Takeaway: Interlink Instagram with your other social media networks.
6. Include some adorable emojis
Well, it is no more an unknown fact that emojis are becoming almost an universal and one of the hottest ways of expression nowadays. Moreover, Instagram even reports that almost 50% of all kinds of captions and comments have one or two emojis at least nowadays.
For example, Anthony Thompson explained that how he raised the bar of his Instagram growth up to 3x with emojis. He was able to get a huge rate of engagement with the incorporation of some fabulous emojis in his Instagram posts.
He proved his point with the following adorable example from Sue Zimmerman. Just take a glance over and you will get an idea about how adorably you can use emojis to spruce up your Instagram posts.
The Key Takeaway: Use funky and pretty emojis while posting on Instagram.
7. Try some lively videos
Well, you must be aware of the fact that Instagram allows its users to upload videos which are 3-60 seconds long. But, how much have you used this feature yet? Not more! Right?
However, a study from Locowise proves the fact even! The outcome of the study revealed that only 10% of all posts on Instagram have videos within them but they are gaining 18% of the total number of comments.
So, there is still plenty of room for you! Just act a little bit smart, focus on videos and do what you have not done till now! I can assure you that you can be certainly one of the first to get a huge number of followers due to the incorporation of videos in your Instagram profile!
The Key Takeaway: Say 'Hi' to the Videos when it's about your Instagram posts.
Winding Up
So, did you try all these tactics before in Instagram? No, right? Well, I am certain that this was the reason behind why you were not able to attract a massive number of followers till date. So, what are you waiting for? Just follow these smart tips and I can assure you that you will soon see your Instagram page flooded with millions of followers!
Lastly, I would certainly like to incorporate the following fantastic infographic from Made Freshly who considered a lot of these tips within the same. Really, such a fun and informative infographic it is!
Check it out!!