Mean Girls is by far one of the most quotable films ever and we all secretly love a bit of Regina George.
Everything from the music to the story is just pure brilliance, but there's always one thing that I find myself wondering. How on earth do I make my bedroom look like Regina's? It's perfectly decorated, feminine and has that luxurious feel to it. So after looking at and analysing an entire range of pictures, I've come up with 8 steps for making your room look like hers.
1. Space
Regina has lots of furniture in the room but still manages to create a very spacious feel. The key to this is to keep things off the floor, especially towards the middle of the room. Stick to utilising the corners and sides of the room, try and keep the middle slightly bare. This helps to create the illusion of a larger space and makes it feel more airy.
2. Pink
The colour scheme of the room is pink, so as long as you adhere to this, anything goes. The carpet in her room is quite a neutral, more subtle pink, and because of this, she has been able to go all out throughout the rest of the room. Everything from her bed-spread to her sofa chair is pink. However she has a purple platform beneath her bed which complements the colour well. So this part is really up to you, go all out or just use pink as an accent colour. Just think pink!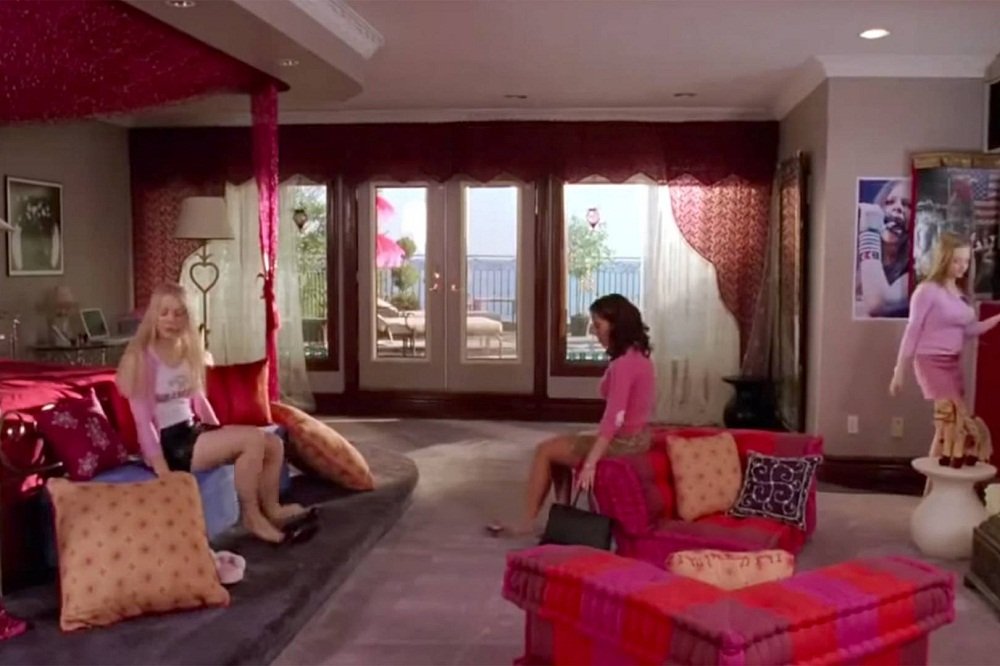 3. Lights
Regina has a few floor lamps around the room but a majority of her lighting comes from her ceiling lights and balcony area. Now if you don't have a balcony (let's face it, most of us don't!), then all you have to do is ensure that there is nothing blocking your windows. Avoid blinds, net curtains, or anything like that, because these can hinder the amount of light that will enter the room. Keep the curtains pulled back which will allow you to maximise the light, making the room appear brighter. You can also get little ceiling lights or fairy lights depending on your preference to add to the femininity of the room.
4. Cushions
Regina George has a million cushions in her room, on her bed, at the foot of her bed, on her chair. They are everywhere. She uses silky gold pillows on her bed, which heightens the luxurious element of the room. The cushions that are surrounding the rest of the room are mismatched but they make the room look more homely. There's just something about cushions that transforms a room into a bedroom.
5. Large mirror
The eminent mirror that the girls critique themselves in front of is almost the entire length of the wall. It has a vintage gold frame and is another means of bringing light into the room. Now you probably don't need your mirror to be that big, but ensure that it is a full-length mirror. Hang it up in the darkest corner of the room, as it will open up that side of the room.
6. Wall stickers
She has 'Princess' written above the headboard in gold letters. Replicating this is simpler than you might think. Use wall stickers and arrange them above your headboard. You can buy customised wall stickers in lots of colours and fonts, and then arrange them strategically. Think about getting your name, or even a Regina George quote!
7. Wardrobe
Now Regina has an entire room for her clothes which you can see in the background of the clip where her 'mom' is bringing them drinks. Unless you have a vacant room in your house, this one can be a bit tricky. However, I've come up with a great alternative! Invest in customised fitted wardrobes which require much less room and look like a part of the wall. They create the illusion of having an entire wall of clothes, and something like a soft oak finish would really contribute to the luxurious element of the room.
8. Noticeboard
She has a huge noticeboard covered in velvet with photos, badges and necklaces hanging. This makes the room look like it has been lived in and is a great way to express your creativity. Using Polaroid pictures or just having your Instagram photos printed could help to personalise the room.
Now these are just the basics, there are always smaller details that you can replicate for example her bookshelf full of CDs or her nightstands. You can even go all the way and invest in a four-poster bed! Just keep everything pink and you are all set. It's also another excuse to watch the film, research of course!
Get in loser, we're going shopping!