As summer begins to come to a close, outdoor enthusiasts know that the number of warm days and nice weather dwindles. There's never been a better time to strap on a pair of comfortable hiking boots and your trusty pack to take your last few weekend hikes of the summer.
Whether you're new to hiking or experienced–but don't want to forget anything–here's a checklist for the essential items you need to take on your weekend trip.
Weekend Backpacking Checklist
These are the items you need for the ultimate outdoor camping adventure.
Food and Water
Freeze-dried food
Beef jerky
MREs
Energy or protein bars
Canned food
Ramen noodles
Oatmeal
Kitchen Supplies
Backpacking stove
Cooking pot
Fuel
Eating and cooking utensils
Bear canister if necessary
Microfiber cloth
Biodegradable soap
Can opener
Water Supplies
Water bottle
Water filtration and/or purifier
Camping Gear
Backpack and rain cover
Tent
Sleeping bag and sleeping pad
Essential Clothing
Hiking shoes or boots
Pants and shorts
Long sleeve shirt
Short sleeve shirt
Underwear
Wool or synthetic socks
Light, waterproof jacket
First Aid Supplies
First aid cards and instructions
Antiseptic wipes
Assorted bandages
Antibacterial ointment
Various-sized gauze pads
Moleskin or blister treatment
Medical tape
Pain relief medication, such as ibuprofen
Tweezers
Antihistamine
Butterfly bandages
Non-stick pads
Insect sting treatment
QuikClot or blood-stopping gauze
Rolled gauze
Finger splint
SAM splint
Triangular bandage
Liquid bandage
Alcohol swabs or cleansing pads
Prescription medications
Anti-diarrheal medicine
Eye drops
Surgical gloves
CPR mask
Thermometer
Cotton swabs
EMS scissors
Emergency Items
Whistle
Radio or other communication devices
Two trip itineraries–leave one with a friend and one in your car under the seat
Hygiene and Other Items
Toothbrush and toothpaste
Wet wipes
Toilet paper
Zip lock bags
Towel
Hand sanitizer
Menstrual supplies
Bug spray
Sun Protection
Sunscreen
Lip balm with SPF
Sunglasses
Hat
Repair Kit and Tools
Needle
Thread
Duct tape
Safety pins
Multi-tool
Tactical knife
Paracord
Fishing line
Hooks
Trekking poles
Plant and animal guide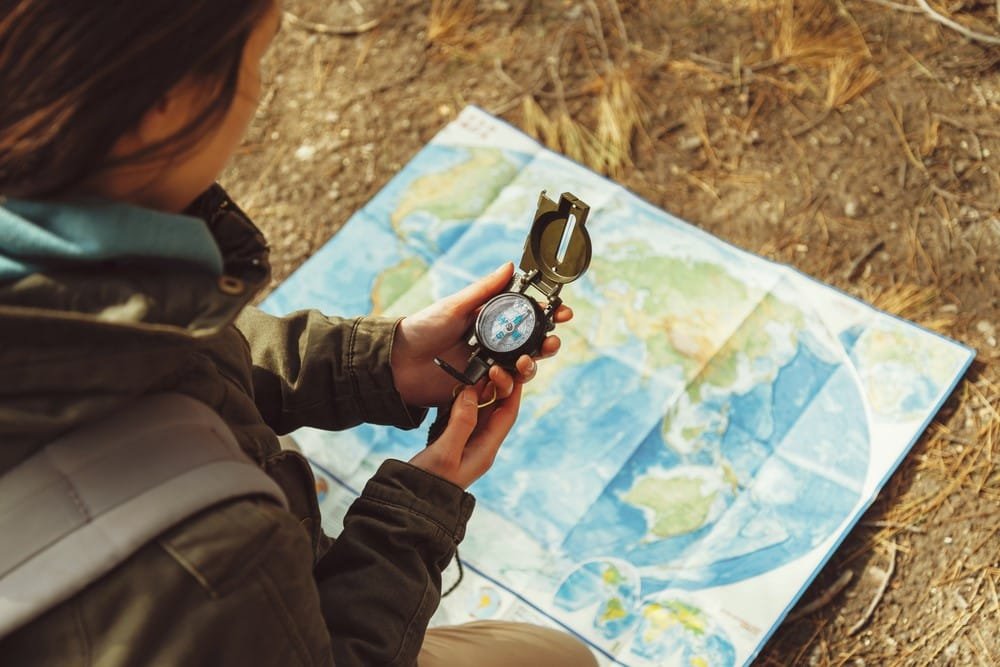 Navigation
Compass
Paper map in waterproof sleeve or bag
Watch
Light and Fire Tools
Headlamp
Tactical flashlight
Firestarter
Matches
Optional Items
GPS
Personal locator beacon
Smartphone
Chargers for electronics
Notebook
Pen
Food and Water
Probably two of the most important items on this list are food and water. It's difficult to carry enough water to hydrate well when you're on the trail, so taking advantage of the water you see along your path is key.
Luckily, you can buy portable water filters or even purification tablets that make water on the trail pure enough to drink. You can also boil the water to eliminate contaminants or parasites, making it safe to drink.
As for food, it should be portable. Canned food is great, but it can be heavy to carry in your pack. If you can catch your food, that's even better because that's less you need to bring with you–but you must be sure of your skills.
Camp Kitchen Supplies
There's no need to forgo hot food on the trail. There are plenty of efficient and lightweight backpacking stoves for sale, and some weigh less than a pound. As for fuel, the general consensus is that you need enough to boil a liter of water per meal for each person on your trip. You should also factor in your camping stove's total burn and boil time.
There is also a variety of cooking and eating utensils, like a spork that doubles as a spoon and fork. You can bring a knife that doubles as a kitchen knife and utility knife.
Some places also require bear canisters–depending on where you're hiking–such as certain places in Wyoming, Alaska and other locations.
Essential Clothing
Your list of essential clothing for your outdoor adventure will differ depending on the location you're hiking and the time of year, but for most places, the summer is hot. You still want to wear layers to keep you cool and dry during the day and warm at night if necessary.
Many people think that cotton is the best material for hiking clothes, but wool or synthetic materials are lighter and dry faster than cotton. Cotton gets heavier as it absorbs water when you sweat. So, stick to synthetic or wool clothing.
First Aid Supplies and Other Emergency Items
A small first aid kit is essential so you can treat injuries while you're backpacking. You may not be able to include everything on this checklist, but at least cover the basics.
It's also an excellent idea to take a wilderness first aid class so you know how to treat illnesses and injuries when you're hiking.
Camping Gear
The camping gear you choose is incredibly important. You want lighter gear that's easy to carry on the trail. But you also want durable equipment that will last. Your tent and sleeping bag must protect you from the elements.
Saving space is critical in your packing strategy, so a good multi-tool will have everything you need to get work done while allowing you to pack other important items.
Optional Items
The optional items on this list make camping out a little easier as well as safer if you bring a tracking device. If something goes wrong, you can send a signal for help and use the GPS for navigation.
This handy checklist will make sure you don't forget the important things you need for your hike. You can customize it to meet your needs so you can ensure a fun and safe weekend backpacking.