It is almost here guys! We are one step away from entering the most fashionable season of all the seasons out there: the fall. I don't know about you, but the fall is my favourite of them all actually. Sure, I like summer and winter but the fall really has some advantages.
First of all, the weather is awesome, especially over the last few years. It is never too cold and rainy, but on the other hand it is just cold enough for us to show off our brand new coats and jackets. Of course, there are a lot of other amazing things about fall, for example, hot chocolate, sweaters, boots, curling up in your favourite blanket after a long day, and of course, fashion shows!
Designers work very hard during this time of the year to provide us with unique and gorgeous designs. And they succeed every time. Since we are talking about fashion shows and designers, let's also talk about some latest fashion trends for this fall, shall we? Here is your ultimate guide for the next season. Enjoy.
Number 1: Sweater Dresses
If you like to be chic, but you also love sweaters, this is the perfect garment for you. Depending on your footwear and your choice of accessories, they can be worn for an afternoon coffee or a stroll through the city, but also as a cute and elegant outfit. The matching possibilities are countless; you can wear them with ankle boots, but you can also wear them with sneakers. Experiment and enjoy their magic.
Number 2: Over-The-Knee Boots
The best of the best, the coolest and sexiest of them all – over-the-knee boots. You can't tell me that you have never looked at some girl wearing them and instantly thought that she looks like a million dollars. It is simply the power of these boots and that's it. You can wear them with basically anything, from skirts and dresses all the way to jeans. The best thing is that you can find them in any colour you can imagine: nude, green, black, navy, and many others. One thing is doubtless: if you want to be noticed, get yourself a pair of these beauties.
Number 3: Bomber Jackets
Yes, honey they are back! Of course, their design has improved that much that they look amazingly stylish right now. From black to pink, from military pattern to flower one, anyone can find the bomber that suits them. If you want that special mixture of edginess and style, but also to feel comfy and warm – this is the jacket for you.
Number 4: Ripped Jeans
I seriously think that they will never not be trendy. It doesn't matter if they are light, dark, bleached, baggy or skinny, there is something about them that makes you want to buy ten pairs instantly. Ripped is "in" and it will stay like that for a long time.
Number 5: Biker Pants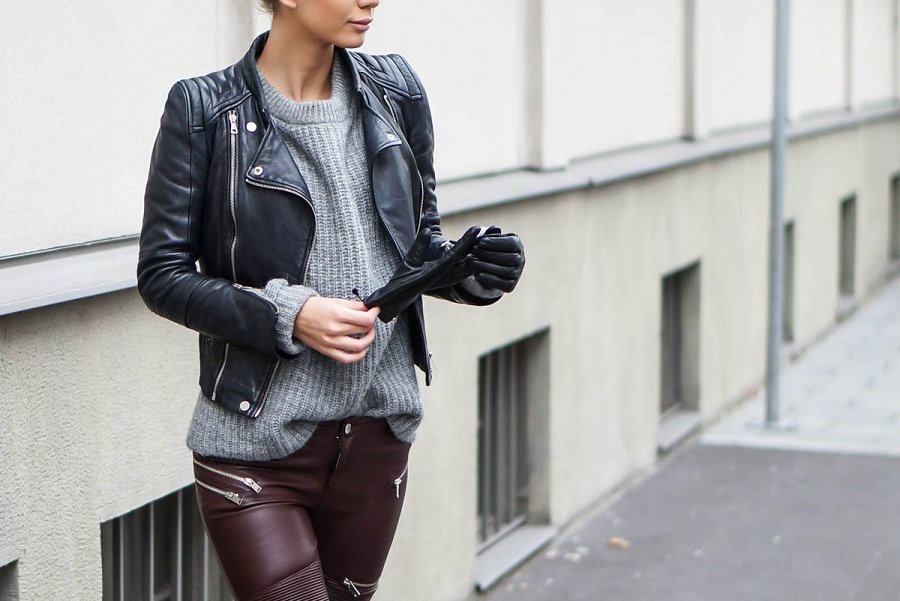 These came out not so long ago actually. There is a cotton version, a leather version and a black jeans version of them. All those zippers and unevenness make them look unique and so cool at the same time. You simply MUST get yourself a pair of these. You won't regret it honey, trust me.
Number 6: Statement Jewelry
For me, this is the coolest thing ever. Finally some colour has come to the fashion industry. Designers like Gucci and Prada are going crazy about eye-catching statement earrings, vintage necklaces, huge statement rings and even chokers (yeah baby, the 90s are back) on all of their fashion shows lately. Give yourself a total freedom and express yourself the best you can!
Number 7: The Velvet
Oh, and what about this beauty? Have you noticed how the stores are slowly being filled with velvet pieces? It has really made a huge comeback this season. Designers are really getting crazy about it and trust me, if something is screaming elegance, this is it.
Number 8: Faux Fur
Especially pay attention to the FAUX part. First of all, there is a bigger choice of different and fashionable designs, and second, protecting animals is cool and fashionable in every season. This elegant garment will keep you stylish and warm all the time. Wear it over the leather jacket, colour-blocked coat or simply put it over your long sleeved shirt for a really glamorous effect.
Number 9: Leather Jackets
You can't tell me that you don't have a leather jacket in your closet. Seriously, this is like a little black dress of jackets – it's a must have and you should get one immediately. It instantly adds edginess to any outfit and if you combine it with your ripped jeans – BAM, you have instantly became a sexy biker chick ready to own those streets.
Number 10: Ankle Boots
The cutest and the most simple and universal footwear. It is just that they look good with everything, from skirts to jeans. They are elegant, sexy and comfortable. In other words, run to the nearest shoe store and treat yourself!
Now that you know what is hot for the upcoming season, hurry up to to get all of these pieces, and you will be ready to own those cat walks, I mean… streets.
Save