Dubai is a fascinating city, filled with sky scrapers, an array of activities and beautiful tourist attractions you will find nowhere else in the world. If you fancy exploring this magical city for the weekend, here is a guide that includes where to stay, what to see and do, and where to eat:
Where to Stay
There are endless options to choose from when it comes to accommodation in Dubai, with an option to suit each and every budget, every taste and all of your needs.
One of the most popular hotels in Dubai, however, is Atlantis, The Palm, which is located on the crescent of the largest man-made island in the world, The Palm Island, giving guests breath-taking views of the Persian Gulf (Arabian Gulf) from their suites in Dubai.
The hotel is one of Dubai's most iconic five-star resorts, and provides guests with everything they will need during their weekend all in one place. From their wet and wild water park to luxury shopping complex, a world-class spa to yacht and boat cruises, guests can enjoy a glorious weekend filled with fun entertainment without leaving the comfort of the resort if they didn't want to!
If you're wondering what kind of rooms there is to choose from, they vary from the Palm Beach Deluxe Guest Room to the Exclusive Club Suite, and from the Presidential Suite to two amazing Underwater Suites.
What to Do and See
Dubai is one of the world's most cosmopolitan cities in the world, making it an amazing destination for travellers who want to travel the world while staying in one city – even if it is just for the weekend!
Some of the most popular attractions in the city include The BurjKhalifa – the world's tallest building – and Dubai Fountains – the world's largest choreographed fountain system. However, there is so much more to see than the favourites.
Travellers have the opportunity to learn so much about the city through a number of museums and programs, including the Sheikh Mohammed Centre for Cultural Understanding, where you are able to embark on a number of activities that give you insight into Dubai's culture, religions and history.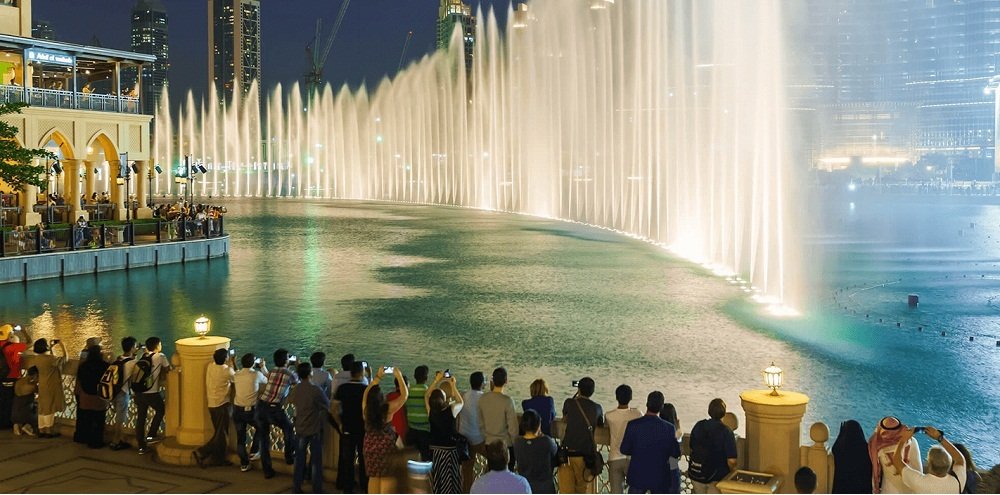 The most popular activity the Sheikh Mohammed Centre for Cultural Understanding runs, is the Jumeirah Mosque Visit. Once at the mosque, you will be able to enjoy a unique opportunity to learn about Emirati culture and religion.
In addition to understanding more about Dubai, travellers have the opportunity to indulge in a number of products from China at Dragon, or discover a mini Mumbai at the Meena Bazaar, selling everything you would find at a traditional market in India.
Spend a Day at LEGOLAND DUBAI, as the theme park is home to over 40 LEGO® themed rides, shows, and attractions that are interactive and entertaining.
Where to Eat
A number of well-known celebrity chefs from Gordon Ramsey to Pierre Gagnaire have opened up restaurants in Dubai, sharing their culinary talent with locals and tourists alike, meaning there is no shortage of great places to eat in the city.
Some of the most popular celebrity-owned restaurants include Bread Street Kitchen and Bar at Atlantis, The Palm, where diners can indulge in Gordon Ramsey's signature dish, Beef Wellington, and Indego by Vineet – one of the best Indian restaurants in the city.
If you fancy taking your family out for an exciting meal, Rainforest Café at Dubai Mall is an exotic jungle that will keep every member of the family entertained throughout the whole evening. You can enjoy great food and drinks while being surrounded by cascading waterfalls, and numerous animals – some of which include jaguars, gorillas and butterflies – all that are brought to life through the clever use of animatronics and special effects.
Away for the weekend with your partner? It's probably better to take them to a quieter spot where you can enjoy each other's company, and Pierchic is the ideal location! Situated at Al Qasr at Madinat Jumeirah and found at the end of a long wooden path surrounded by the waters of the Persian Gulf, treating your loved one to a dinner at this fine restaurant will be a meal you will never forget.
Discover the best of Dubai and make it a holiday to remember!
Save