Ethnic fashion evolves just as much as fashion on the whole. There is a constant stream of incoming and outgoing fads. Some are the result of direct influence from international trends and some are completely original however there is no denying that ethnic wear is open to experimentation and different interpretations.
Every season there is list of new ethnic fashion fads, some take off in a big way while others fizzle out fast. Listed below are some of this year's fashion fads which actively promote fusion dressing and proactive personalization when it comes to styling ethnic garments. Read further to know more.
Latest Ethnic Fashion Fads for Women
1. Kurti Trends
The kurti is an ethnic tunic that widely favored by younger women in countries like India, Pakistan and Bangladesh. This tunic silhouette is also widely borrowed by western designers. In India and Asia the kurti is primarily worn with churidar pants or even denims and leggings. In other words the bottoms that go with kurtis have largely remained slim fitted however newer and widely accepted trends have made it popular to pair the kurti up with peasant skirts and even palazzo pants.
This trend has been accepted in a big way owing to its ultra feminine look and vibe. This is evidence that while androgyny was trending a short while back, girl power has made a comeback.
2. Kurti with Palazzo
The Kurti with palazzo trend is rampant amongst younger women in countries like India, Pakistan and Bangladesh. This trend is popular for a number of reasons. Every woman in these regions has multiple kurtis in their closet.
Pairing the kurtis with palazzos allows these women to break away from the monotony of the usual kurti and churidar combination. It also helps that the loose fitted palazzo is comparably more comfortable than slim fitted churidar pants and no one is complaining about the Boho-Chic vibe of this ensemble.
3. Kurti with Peasant Skirts and Lehenga
The kurti and peasant skirt or lehenga combination is another trend that has taken off in a big way. This ultra feminine styling trend has many things going for it. The casual yet girlish appeal of this ensemble tops the list and the comfort it offers comes a close second.
4. Kurti Dress
Long standalone kurtis have found favor as an ethnic dress for women. In other words the kurti is now being worn minus bottoms like a dress. This ensemble works well with strappy sandals and casual footwear. One reason this trend is widely favored is because of its casual yet feminine vibe.
5. Innovative Saree Trends
The Saree has always been big on the Indian ethnic fashion radar. This popular ethnic ensemble is often the subject of experimentation and artistic interpretations by India's biggest designers. This in turn gives rise to new saree trends. Read further to know more about the latest saree trends.
6. Ombre Sarees
Ombre sarees are trending in a big way right now and the appeal of this trend is the vibrantly colored sarees where colors seamlessly merge in to each other. With this trend, two to three similar colors seamlessly merge together on a single saree.
The saree may or may not be embroidered and embellished however most often the borders are highly embroidered with gold or silver thread work. These sarees are a huge hit at weddings and parties.
See Also: Become A Trend Setter By Wearing Beautiful Terracotta Jewelry
7. Lehenga Sarees
The lehenga saree is a bridal wear ensemble that effectively combines the youthful vibes of the lehenga with the grace of the saree. The lehenga saree is hybrid between the lehenga choli ensemble and the saree drape. This ensemble is extremely popular at weddings, parties and for bridal wear. Most often the lehenga saree is exquisitely embroidered and embellished as it falls in to the category of festive wear.
8. Cape Sarees
The cape saree is a modern interpretation of the saree that has a sheer cape that goes over the blouse and covers the shoulders. This look is trending in a big way on the red carpet with Indian saree wearing celebrities.
9. Lehenga Trends
The lehenga is favored all over North India as bridal and festive wear and this demand inspires Indian stylists and designers to proactively experiment with the lehenga. This has given rise to a few popular trends. Read further to know more.
10. Neon Lehenga
The lehenga which is bridal wear and festive wear favorite has always been a vibrant and colorful ensemble and the new trend of neon colored lehengas fits just right in to the bridal and festive wear category.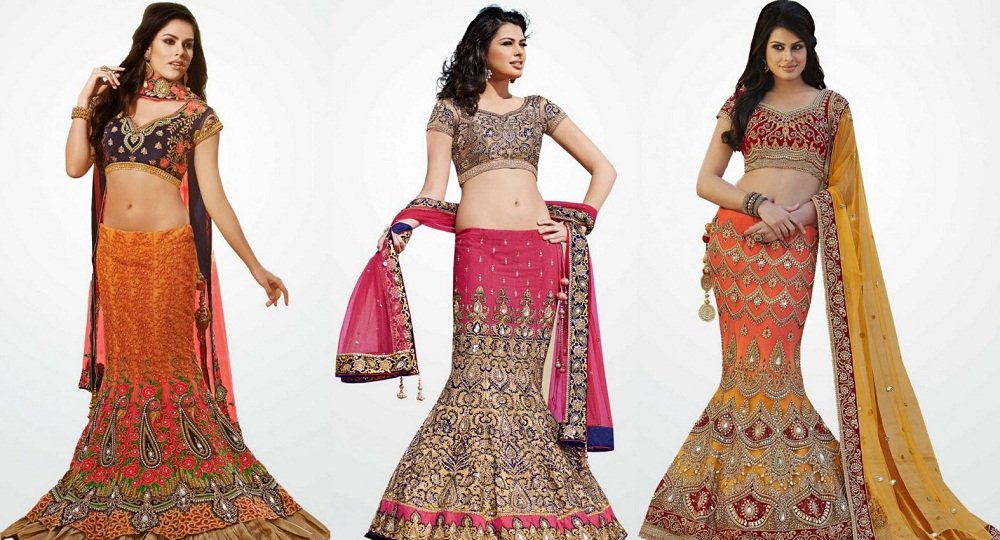 11. Velvet Lehenga
Velvet lehengas for bridal wear is trending in a big way right now. High sheen velvet fabrics in colors like red, maroon and royal blue fit right in to the opulent wedding theme and exquisite embroidery and embellishments further accentuate the aesthetics of velvet fabric.
12. Floral Lehenga
The Floral lehenga is trending in a big way for both party and bridal wear however it is worth looking in to some of the youthful and vibrant ways the floral lehenga is being styled for casual and party wear.
Women are increasingly experimenting with an indo-western look with the lehenga, teaming it up with crop tops, off shoulder tops and even kurtis. The floral lehenga is definitely a red carpet favorite with Indian celebrities.
You May Like: Summer Time – Hijabi Must-Haves in 2016
Latest Ethnic Fashion Fads for Men
1. Kurta Pyjama with Nehru Jacket Combination
Add style to your kurta pajama ensemble with a Nehru jacket as this styling combination is trending in a big way right now. The Nehru jacket is back in a big way since twenty fifteen and your festive wear kurta pyjama ensemble got a whole new level of class and sophistication with this mandarin collar sleeveless jacket.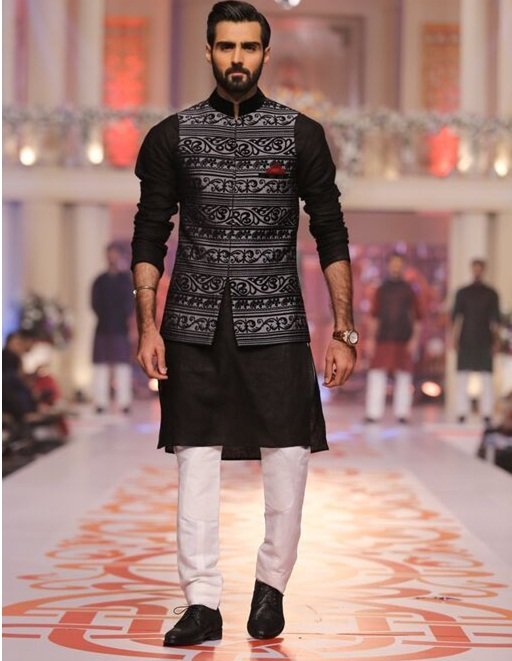 2. Nehru Jacket with Semi Formal Western Wear
The Nehru jacket is being adapted to serve as a casual sleeveless jacket. This mandarin collar jacket is now being widely styled with casual shirts and trousers or denims. This is good look for Friday dressing at work or even corporate dressing in offices that have a relaxed dress code.
3. The Dhoti is Back
The dhoti has made a huge comeback as a form of wedding and festive wear. More and more men are going back to the traditional dhoti and this is most apparent with contemporary grooms.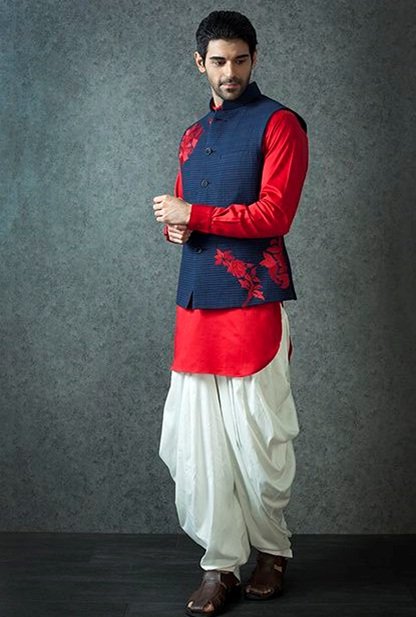 Thanks for reading. What do you think about this topic on latest ethnic fashion fads for women and men? Share your feedback/suggestion/comments below.