In 2022 videos became an essential part of marketing, and it doesn't seem like they will go somewhere any time soon. Or ever, frankly.
Creating good videos for your YouTube channel, Facebook page, online corporate blog, or Instagram profile is not just about shooting nowadays. Post-production takes a lot of time and effort, and every platform has its own requirements for a video format that can be used on it.
With all these constant conversions, you need the best video converter for Linux, Windows, or, if you are one of the Mac users, for Mac OS. So if you want to find a converter to change the format of any recording from music videos to Instagram stories, you need to check out this list of the best video converters to use in 2022. Let's take a look.
Prism Video Converter
A video converter for Windows that gives you much more than just changing format and compressing your media materials.
Prism Video Converter got its place on this list of the nicest video converter tools because it embodies almost everything you need in your converter. With a free version, you get a collection of supported conversion video formats and a couple of advanced features.
With a paid (by the way, it's $19,99), you get a lot more! For example, you will be able to add visual effects to your video, trim it, and convert it to a number of formats. If you ask us, the money here will be invested well.
Freemake Video Converter
This converter is very popular, and we see all the reasons why. Freemake can convert your media files into almost any known audio and video format. Just imagine it supports about 500 formats!
As usual, simple trimming and cropping features are available in this software too. The name "Freemake" implies that the tool is free, and yes, it has a free version. However, when you use it, you have to see a lot of Freemake branding in your videos, so we recommend you spend $5 and get a basic paid version to get rid of the branding.
Movavi Video Converter
Movavi Video Converter is the video converting software for a specialist of any caliber. You can work with this video converter online or download it on your Windows or Mac.
The converter has advanced functionality and high conversion speed. You can change your media file into one of the 180 supported formats in a matter of minutes and also trim, merge your clips and add subtitles to them.
The converter costs $49.95 for a lifetime license, and you can try it during a 7-day free trial to explore all the pros and cons.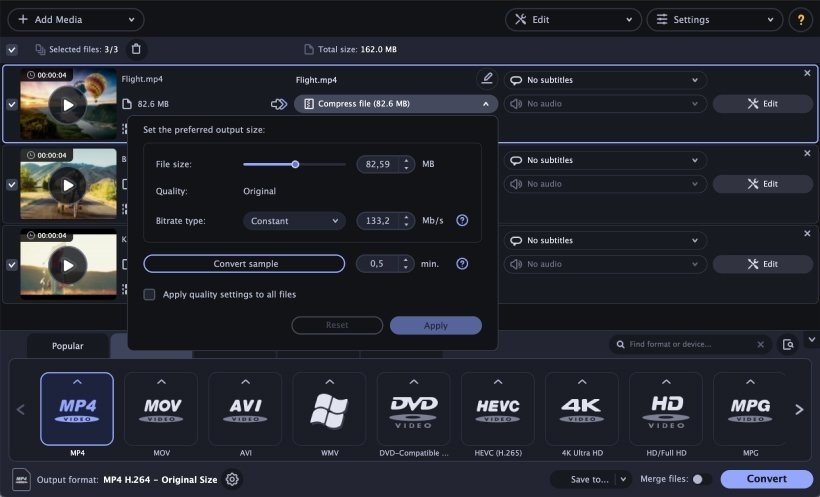 Any Video Converter
This converter is one of the most convenient options for freelancers and occasional users. It is not good enough for professionals, but it still offers more than one hundred media file formats to work with.
Any Video Converter has a special in-built NVIDIA NVENC accelerated encoding feature. You can extract audio from your video files, download videos from other websites, and do dozens of other cool things using this converter.
You can work with 4K video files in this converter, and you will not lose any quality in the conversion process. The only disadvantage we see in this converter is its really slow conversion speed.
It has a free basic plan (with limited features), and if you want to upgrade it and get more advanced, professional features, you can purchase a Premium plan that will cost you $59.95.
Handbrake
If you don't like the idea of purchasing a tool for video conversion and you prefer open-source software, this converter is for you.
Despite being fully free, Handbrake offers quick and easy conversion of your videos, and it is even possible to do it in batches. The best thing about Handbrake is that it is a multiplatform converter, and you can use it not only on Mac OS and Windows but on Linux too.
The only big disadvantage of this tool is that you can convert videos into a pretty small number of formats, but most of the popular ones are still got covered.
PowerDirector 365
This professional tool is free of charge, but you can upgrade it and start paying a monthly fee of $19.99 (or an annual $51.99) to get access to more advanced features.
PowerDirector 365 can be used not only on your computer but also this converter supports Android and iOS gadgets. You will be able to convert your videos on your phone and upload them to social media directly from your device.
It's not an online video converter, but since you can use it pretty much everywhere, we can forgive this little thing. Although it is often mentioned as one of the best starting conversion tools, many find the PowerDirector 365 menu too complicated for newbies. Fortunately, you can try it before you buy it!
Gihosoft Free Video Converter
Gihosoft Free Video Converter is another tool that works perfectly both on Windows and macOS and has a really good free version.
In the free version, it can convert a video of yours into one of the ten most popular formats, which is more than enough for a regular user. You also can burn videos to DVD, download videos from YouTube, trim, and crop them in the free version.
If you are a more seasoned user of video conversion software, this option may not be advanced enough for you. In this case, you can purchase a paid version of Gihosoft Free Video Converter for $39.95.
Conclusion
Did you find your new favorite video converter on this list? We assure you that you can choose any of these and get a perfect tool with advanced features created in accordance with the latest tech trends.
Every converter on this list will make the conversion quick and pleasant for you, so do not hesitate and choose the one!