Everyone loves to spend some good quality time on the beach, but there are just some beaches that take our breath away. Although it might not be plausible to check out all of the amazing beaches on this stunning planet, there are a few that might leave you speechless. In no particular order these ten beaches definitely take the cake and will leave you feeling altogether satisfied with your beach vacation.
1. Coronado Beach, California, U.S.A.
It's no wonder why so many believed they would strike gold in California. The beautiful sand at this exciting beach has golden flecks that will grab your attention upon first glance. Apart from the glorious scenery and cool waters the beach is often graced by the sight of dolphins. Tourist and beach bums alike also love the elegant Spanish inspired designs, particularly the Hotel Del which has played a part in cinema for years. If you tire of the beach setting then you can easily transport yourself to the relaxed setting of Imperial Beach or the fantastic downtown area of San Diego.
2. Playa De las Catedrales, Galicia, Spain
Visiting Playa De Lad Catedrales can be an incredibly humbling experience. During high tide visitors experience a small, yet romantic, beach that is absolutely perfect for swimming, be ready with your perfect swimwear. However, when it is low tide the beach reveals amazing caverns that create an unforgettable scene that you wont get anywhere else in the world. Surely, visiting this beach is like spending the day at two entirely different locations and you will never truly get to see everything. The beach is in Galicia which is known to give tourists an incredibly unique experience, so you will know you are in for a treat at this beach.
3. Whitehaven Beach, Queensland, Australia
If you are looking for the perfect oasis then Whitehaven Beach is for you. This amazing beach features sand made out of 98% silica which creates the mesmerizing white sand the beach is famous for. Of course, the stunning sand would be absolutely nowhere without the impressive blue water that really makes people fall in love with the incredible beach. Whitehaven Beach has even been rated the most Eco Friendly beach which really makes the air seem all the more fresh and exhilarating. Although splashing in the water is a great way to celebrate this beach, you will really get the most out of your experience when you take one of the many helicopter flights over the area.
Must Read: The Best Beaches In Australia That You Must Visit
4. Swansea Beach, Wales, U.K.
Sometimes you simply need a beach that will allow you to sit down and gather your thoughts. With the beautiful ocean crashing on the shore and the incredible scenery you will be more than impressed with the environment Swansea Beach creates. This beach is great for people who love to stroll on the sand or cyclists who enjoy riding in areas with an incredible view. The beach is also right next to Mumbles, Wales which boasts a great number of tourist shops and an exciting small city vibe.
5. Playa Paraiso Beach, Quintana Roo, Mexico
Playa Paraiso Beach is known as the paradise beach for obvious reasons. The sand glimmers in the warm and inviting sun while the clear water simply cant be resisted. If you love to swim then this is definitely the beach for you. The waters are shallower, calmer and warmer in this area which makes it irresistible to most people who visit. This beach is connected to world class resorts that will keep you satisfied with all aspects of your holiday away. Of course, sun screen is a must at this beach as there is little natural shade to be found.
Also See: Best Beach Vacation Destinations for Silver & Gray Sands
6. Poipu Beach Park, Hawaii, U.S.A.
Poipu Beach Park has a little something for every visitor. From the amazing landscape to the activities, you will certainly be pleased with this stunning beach. One of the best things about the area is the weather always seems exquisite so you will be ready for a swim any time. There is also heavy sea life activity, so on any given day you may be able to see a whale or dolphins swimming on the horizon. If you plan on scuba diving in the area then you will be privileged to see some stunning coral that will be remembered for years to come. The beach is also on an island that is filled with rich cultural events.
7. La Jolla, California, U.S.A.
La Jolla is the home of many creative artists who cant get enough of the beach and hillsides. This beach not only has an amazing seaside village that satisfies the shopaholic, but also allows visitors to investigate the home of the late Dr. Seuss. The beach itself is filled with attractive sand, rocks and palm trees that seem to harmonize with the crashing waves. At La Jolla Beach you wont just see dolphins on the horizon, but you will also get to enjoy the seasonal sea lions who bask on the rocky areas. There is plenty of surfing and snorkeling to be done in this amazing location.
8. Myrtle Beach, South Carolina, U.S.A.
Myrtle Beach is certainly one of the most popular beaches in the world. Its amazing scenery draws in thousands of Spring Break visitors each year. This is, of course, for a reason. Myrtle Beach creates a warm environment that lures people into its massive stretch of golden sands and inviting waters. Apart from the stunning view of the Atlantic Ocean, the beach is located on the Grand Strand which means there is plenty of tourist attractions to check out when you are finished soaking up some sun.
You May Like: 5 Ways To Deal With Post-Travel Blues
9. Maldives Beach, Republic of the Maldives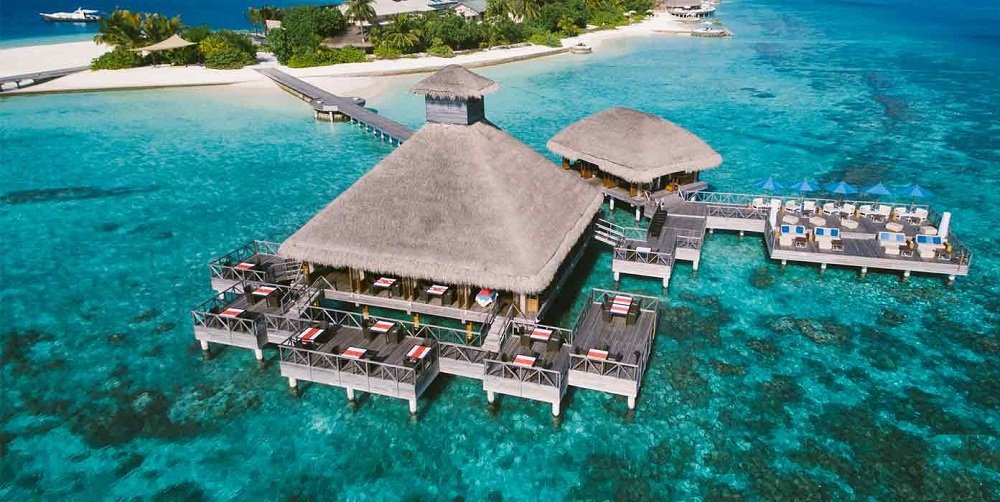 If you are looking for peace and tranquility then the Maldives beaches are certainly the place to go. This small island immediately gives guests the sensations of complete relaxation thanks to the soothing white sands and the gentle ocean. The ocean is a clear blue which makes swimming in it seem like an incredible luxury. The beach itself is only disturbed by small huts which add to the charm of this gentle and amazing beach.
10. Egremni Beach, Greece
Egremni Beach is home to many, in fact while you are strolling on its rich sand you can look up and view the amazing colored villas on the cliff tops. The stacking of these homes is a sight in itself and will really ensure you get to see a mesmerizing scene you will love to share with friends. One of the more unique aspects of this beach is the sheer fact you have to climb up and down a series of stairs just to enter and leave the beach. This really adds a charming feel to the scene while giving you a little stretch before hitting the soothing waters and soft sand.
These are the most popular top 10 beach destinations that you may like to visit this vacation. Have you been to this beaches? Share your experience with us, we would be happy to hear it from you.
Save
Save
Save